Sun, Dec. 21st, 2008 | 05:08 pm
A day at Glendale
Posted by
slavezombie
Some time ago, I went to pick up an memory stick for my camera. Uh-oh, you know what that means You may be seeing more of these sequence shots from her on end. I drove all the way out to Office Depot and when I got home, realized that the memory stick wasn't compatible. Drove all the way back and by the time everything was all right, I took a picture there at Office Depot to make certain, it was lunch time. I stopped at Islands and had a few beers with my burger.
I amaze myself at how docile I can be and get thru a whole day driving around without so much as a single utter to anybody other than the check out clerks at the places I buy stuff. That's totally wrong. Don't think I'm not miffed about that, either. And I actually sit thru stuff like this YouTube Paladin episode quite bemused.
office depot
exchange for canon memory stick
Broadway at Islands
Time for a walk. I made my way from Brdwy to Brand, crossed the street and continued toward Wilson, went form Wilson, passed Orange and circled the JoAnn Fabric & Crafts building in search for the main entrance.
Infinity coupe
I should know better than to take pix while facing the sun, but this was the only angle I could manage to capture the Olive Garden sign in the building across the street. I had walked from Broadway to Brand.
Pkg lot for JoAnn
After circling the building and not having much success finding the main entrance, it isn't until I come full circle that I find that the main entrance is at the south-east corner of the building.
veile fabric
Probaby usable for a rough silkscreen template, depending on whether the material it is made from is polyester.
barcode
I thought this might be useful as mesh for silkscreening. I'm not too familiar with silk printing; so I have to find out what the material is made of before I go comparison shopping.
sewing machine
I noticed that this sewing maching is hooked up to a computer. That's way cool. I want to design something and make a patch too.
Store front
In my quest to find the heart of the fashion district in Glendale, I stumble onto the these sexy mannequins that turn me on.
bebe
Back in 1994, there was a place in California Mart (Fashion Mart) called bebe. Then they moved (relocated) to Glendale.
---
Sun, Dec. 21st, 2008 | 05:28 pm
r u a real librarian?
Posted by
slavezombie
just want to take this time to reflect… Considering it is Sunday, and Tomorrow is Monday, normally I'd be saying that my weekend was too short. C'mon, who else has to work on Saturdays? Damn! I forgot to clean the house again!! But no worries. I love my job and blogging wouldn't be the same without the idea/fantasy that my affiliation with bibliotechs will one day soon reform itself for inclusion of digital publishing. If libraries weren't a major part of who I am, the concept of transformation to a raw method of expression, then I wouldn't be so gung-ho at learning html/css. Motivation is everything and while people can say to me 'learn a trade involving computers' because computers are the future, I could care less. Maybe it's ADD, but I'm really excited about going back to school on this subject now. Well, I draw the line at traditional schools. I don't have time to schedule my classes with my work schedule. That's bogus. I don't have time to be attending the same class three times a week between 9AM to 12, or 6PM TO 8PM. Screw weekends too. College sucks.
I always believed that the resources were always available for those eager to learn. Libraries. But when it comes down to messing around with the executable files in my computer as practice for what I'm studying, I'm not going to risk crashing my 'puter when I don't really know what I'm doing. For that, I can see the importance of having a teacher. I know there's a lot of hacks out there running schools that aren't really worth a damn. They get their money by conning naive people like me. Truth is, I could care less about computer science. I think what I truly seek is enough knowledge in that area, and cute nerdy chicks, so that I can be independent with my creativity.
---
Sun, Dec. 21st, 2008 | 10:15 pm
Limited release
Posted by
slavezombie
I can't get out of my head this question a friend asked me "Are you anti-semite?" becuz I had mention my intolerance to Adam Sandler. Of course, I didn't just say, I don't like Adam Sandler flicks. It was during You don't mess with the Zohan that I couldn't quite get into that I said I thought his jokes seemed Jewishy. So, before you start thinking I'm a Jew hater, let me just say I look forward to going to see Adam Resurrected. I just dunno what it was that had rubbed me the wrong way about Zohan that I said the J word. My kind of comedy is Death @ a funeral. I thought Frost/Nixon had some scenes that earned a chuckle, but that's more than I can say about the movies that feel like my arms are forcibly being raised, or my shoes are being removed. Pineapple Express comes to mind, but I didn't mind sitting thru that so much. I would've liked to join the bandwagon for the Harold and Kumar flicks, but I just haven't gotten around to those.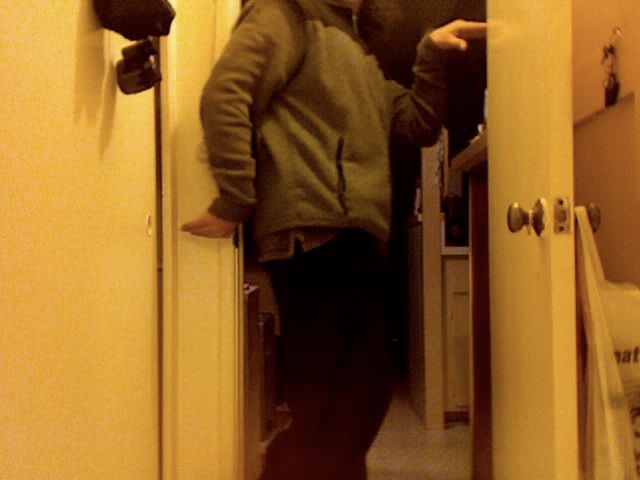 Just as Mel Gibson may have been typecast as an anti-semite film maker, I haven't seen a film affiliated with Steven Spielberg I've enjoyed since E.T. Not true, I liked Saving Private Ryan, Men in black, Poltergeist.
I use to like Jane Pauley, but her news program really bored me to sleep. When I realized that I just couldn't keep myself awake during her show, I decided that I would stop watching Dateline unless the country went to hell in a hand basket as a result of some monumental catastrophe effecting the entire nation. I just learned, however, that she retired in 2006. :( The only reason I know this is that I began to spark an interest in Dateline again as I've been hooked on reading the comic strip Doonesbury in the local newspaper for the last few weeks. I find the lives of these eccentric personalities [Pauley & Trudeau] fascinating. I wish my life could be half as good.
I'm thinking of uploading daily pix here. I have a full length mirror that I check myself out on daily for the sake of matching color schemes. I'm not comfortable with full length exposures (BTW, ever notice how most tourist photos tend to crop off people's feet?). Today I played sick. I didn't do much in the area of chores, and sat comfortably by the fire place surfing the web. What this means is I didn't bathe. I wear the same leisure clothes for 4 to 5 days before I decide it's time to toss them into the hamper. I'm wearing 4 layers in this mug shot. I've got on one long sleeve white thermal, my Slayer concert t, a sweatshirt and a sleeveless vest from Warner Brothers with a stitched emblem of Scoobey Doo.
Oh yeh, I also have on dark blue sweatpants.
---