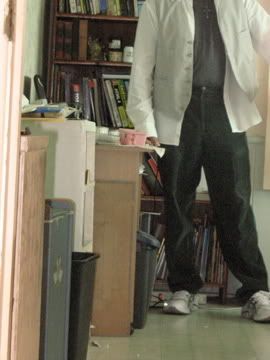 My sore throat seems to have disappeared mornings. Now my symptoms are coughing and runny nose.
You know the song My hero by Foofighters? Bits of that song, and Falling slowly from the movie soundtrack Once is what I'm hearing when I listen to Dakota by STEREOPHONICS. So, out of curiosity, I plaster my ear to the speaker and listen for distinguishing lines in the lyrics that might reveal to me what it is I'm listening to, but at this point, I don't even know who or what is playing. I pull up indie103.1 dot com and check their recently played list. I calculate the time and am almost certain it was the latter.
(
Collapse
)
Isn't obvious that I've got a belly. As I finally find the time to log myself in to my HMO to check on my most recent visit, I am shocked at what the doctor has entered into my medical record. I mean, the other stuff is helpful. In fact I'm anxious to mix together a concoction of saline solution for my nasal passages. What is it, 1/2 tsp salt, 1 cup water (room temp), 1/2 tsp baking soda.
Use saline (saltwater) nasal washes to help keep your nasal passages open and wash out mucus and bacteria. You can buy saline nose drops at a grocery store or drugstore. Or you can make your own at home by mixing ½ teaspoon salt, 1 cup water (at room temperature) and ½ teaspoon baking soda. If you make your own, fill a bulb syringe with the solution, insert the tip into your nostril, and squeeze gently. Blow your nose.
Nasopharyngitis
Smoker
Overweight adult
Whatever.
So, that link I mentioned yesterday… AC/DCs new Excel formatted song… It works. However, I don't think it's a complete version of the song itself, which is a drag. It's amazing, nevertheless, how somebody can configure a spreadsheet program to play a video. Wow.