Sun, Jul. 12th, 2009 | 10:33 am
Posted by
slavezombie
---
Sun, Jul. 12th, 2009 | 06:49 pm ☡ listless
Posted by
slavezombie
Wood bench
Ingredients:
---
PLANKS
3-1⁄2"x1-1⁄2"x12' $2.08/ea. qty. 1
5-1⁄2"x1-1⁄2"x12' $3.84/ea. qty. 1
2-5/8"x1-1⁄2"x10' $1.93/ea. qty. 1
1-1⁄2"x1-1⁄2"x10' $1.75/ea. qty. 1
SCREWS
6" with nut & washers qty. 2
3-1⁄2" with nut & washers qty. 4
2" bolt for wood (not mechanical thread) qty. 2
Here's a picture of a bench I'm working on for the moat section of the backyard at work. It's a simple assembly that I copied from a picnic table set. If you look closely, you can see the table that the bench is resting on while I recharge my drill and pick up another screw attachment.

Don't you just hate when you make out a list of stuff to buy and it's so complex that, even as you stop to check that you have everything in your shopping basket, it never fails that you forgot to pick something up. I've been wanting to buy a stone succulent because they're just some funky looking plants, and I want it for my desk at work. Hah, I can't wait until Schulz makes some kind of sly remark about the way my plant looks when it blooms. Heh-heh.

By tomorrow, I figure this project will be completed. The whole thing ran about $15-16. Not bad considering I'll have a private place to sit and read (when the heat lets up).
---
Sun, Jul. 12th, 2009 | 09:58 pm ☡ cynical
I planted my first tree
Posted by
slavezombie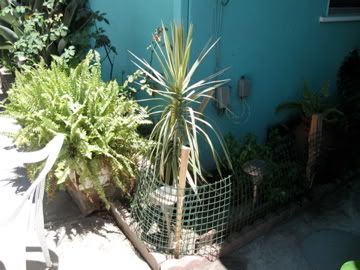 I planted it either earlier this year, or late last year. What happened was, my father brought me a tea rose plant and I was going to plot it down right where you see this palm tree-like plant. I decided that there wasn't enough sunlight for the plant to thrive so I decided on another section of yard. Here is where I planted a tree that didn't seem to be doing so well in it's wooden barrel-like pot. I wasn't sure it would get any better, but it sure seems to like where it's at now. You can see in the background, against the wall, my att.net connection.
---
Sun, Jul. 12th, 2009 | 10:07 pm
My goldfish eats like a dog
Posted by
slavezombie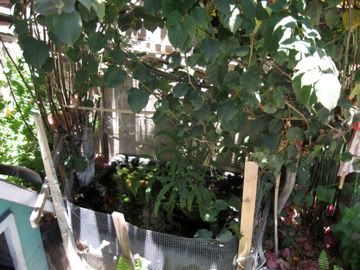 I think it's been about a year since the gold fish got put out into the great outdoors. I have a bad memory for these things. I do remember stressing over the heat of the summer that the fish was sure to battle AND then the cold of winter without a heater. So, I figure this is the second season that my pet goldfish, without a name, will enjoy living in the great outdoors. He (or she) reminds me of a dog by the way it gobbles up the koi pellets I feed it every morning. I only wish I had enough space in this little pond to buy another fish so it could enjoy some companionship. Maybe even reproduce. That would be great. In all the years that I had been catering to the upkeep of a 35 gallon aquarium, my fish only reproduced one time (as far as I know). These fish love eating their own kind and if one doesn't separate the fry from the adults, nobody would be the wiser as far as mating is concerned.

I love my fish.
---
Sun, Jul. 12th, 2009 | 11:29 pm ☡ sleepy
Arturo "Thunder" Gatti
Posted by
slavezombie
… no signs of gunshot or stab wounds, but police were investigating the case as a homicide.
[snip]… Amanda Gatti, but she was not charged, the paper reported.
BOXER DEATH SHOCK - New York Post
I haven't seen a good fight for awhile. I wonder if boxing season is over. What. If NASCAR has a season, not to mention hockey, football, baseball, then surely there's a season for boxing. After all, boxing is a world recognized sport.

Just before bed, I caught the last part of the 11 o'clock eye witness news. The sports report explained the shocking death differently from Brazilian newspaper O Globo, and AP for that matter, showing footage of Amanda Rodriguez being apprehended for the murder. Huh? A bloody purse strap. I'm supposed to believe a champ boxer was murdered by a woman with only a purse strap? C'mon.
---